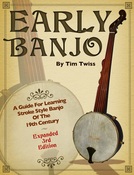 Early Banjo 3rd Edition Book with Flash Drive
This is a new release as of June 2016. The layout is better and the content has been expanded. The actual technique is explored in greater depth, and there is a great deal of material to experiment with as your first repertoire. I have included the entire Winner's 1864 Banjo Book. This barely sees the light of day in the banjo community, but has many parallels to the Briggs' Book.
This book contains much of the original text and instruction from the books that started it all in 1855. Nothing is altered. It is followed by music in tab that is easy, fun, and musically delightful to play and listen to. I break it down and demonstrate in meaningful, digestible hunks. The goal is to establish a solid foundation of technique and understanding, and then turn the player over to the vast repertoire available. Get the right start on your Minstrel Banjo, and learn about the original style - Stroke. The flash drive contains videos to accompany the book. It also has all the audio from the music in the book.Get them both together. Indispensable aid to actually see and hear it all.
Also available at Elderly Music.

Add International Shipping (see below ) for every order outside the U.S. including Canada.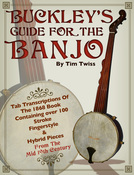 Buckley's Banjo Guide of 1868 in TAB
This is the amazing Buckley Book with 112 delightful songs clearly noted in TAB. It is one of the best books of the original "canon" of banjo publications. It has a solid foundation of Stroke Style tunes, but ventures off into fingerstyle. It has waltzes, jigs, hornpipes, mazurkas, polkas, reels, and themed arrangements. Many of the most delightful melodies you enjoy on early banjo are in here.

Add International Shipping (see below ) for every order outside the U.S. including Canada.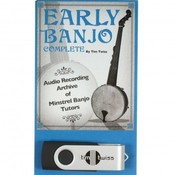 Early Banjo Complete - Audio Archive
This is the largest compendium of early banjo tunes complied in one place. The collection includes all the banjo instrumentals from the principal tutorial books published between 1855 and 1872 including the banjo section of the Converse Analytical Method of 1887. This collection of early instrumental banjo music also includes PDF files of the original tutors so you can see the music as it was written 150 years ago.
Briggs' 1855 56 tunes, Rice 1858 35 tunes, Buckley 1860 117 tunes, Winner's 1864 27 tunes, Yellow Converse 1865 27 tunes, Green Converse 1865 77 tunes, Buckley 1868 91 tunes, Converse 1872 31 tunes, and the Converse Analytical of 1887 33 tunes.
The selections are all played unaccompanied on a Fretless Boucher banjo tuned to D. The interpretation was intentionally left unadulterated in order to provide the listener with a simple baseline recording library, faithfully representing the written page.

Add International Shipping (see below ) for every order outside the U.S. including Canada.


INTERNATIONAL SHIPPING
Safe, secure, and affordable downloads - Hundreds of Early Banjo recordings.
Cross the borders with NO shipping.
Printed books too!

Click here
Payloadz